Often, the soul winner will face discouragements, fears and rejections as he spreads the precious life-giving word of God to others, who sometimes disregard the truth in contempt. It is vital to walk by faith and look beyond such temporal opposition for the sake of SOULS when witnessing. To focus in upon Scriptures, like the following passage, will help much. Soul winners (and all Christians who are persecuted) should rejoice over such adverse treatment:
Blessed are you when men hate you, when they exclude you and insult you and reject your name as evil, because of the Son of Man. Rejoice in that day and leap for joy, because great is your reward in heaven. For that is how their fathers treated the prophets. (Luke 6:22,23)
To be rejected when evangelizing is GREAT NEWS for the servant of God, according to the Lord Jesus! Why? Because that form of persecution will bring a great reward — great enough that he should leap for joy. To ponder that fact will help the Christian to continue sowing God's word to others, even in the ugly face of persecution. The mystery about this is, what exactly is that great reward? The Bible doesn't say. The overcomers will just have to pleasantly wait to find out, but be assured they won't be disappointed!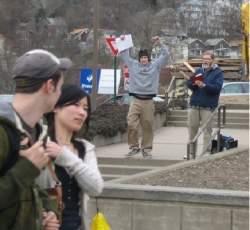 Dan Corner is an avid soul winner whose evangelism efforts span over three decades. Print some of tried and true FREE gospel literature to give to lost souls in need of salvation.